Runtime Upgrade
At about 1pm UTC on Thursday 27th May (at block #717987), the runtime upgrade from Antioch to Sumer was successfully executed.
All memberships, forum posts, proposals, roles, balances and the fiat reward pool have been transferred over to the new network. The only elements missing are channels and uploaded media content, which are unfortunately not supported by the new content directory.
Improved Content Uploads
Perhaps the defining upgrade of this testnet release is the release of Joystream Studio within the web playback application, offering a seamless uploading experience and replacing the clunky CLI-dependent flow previously required.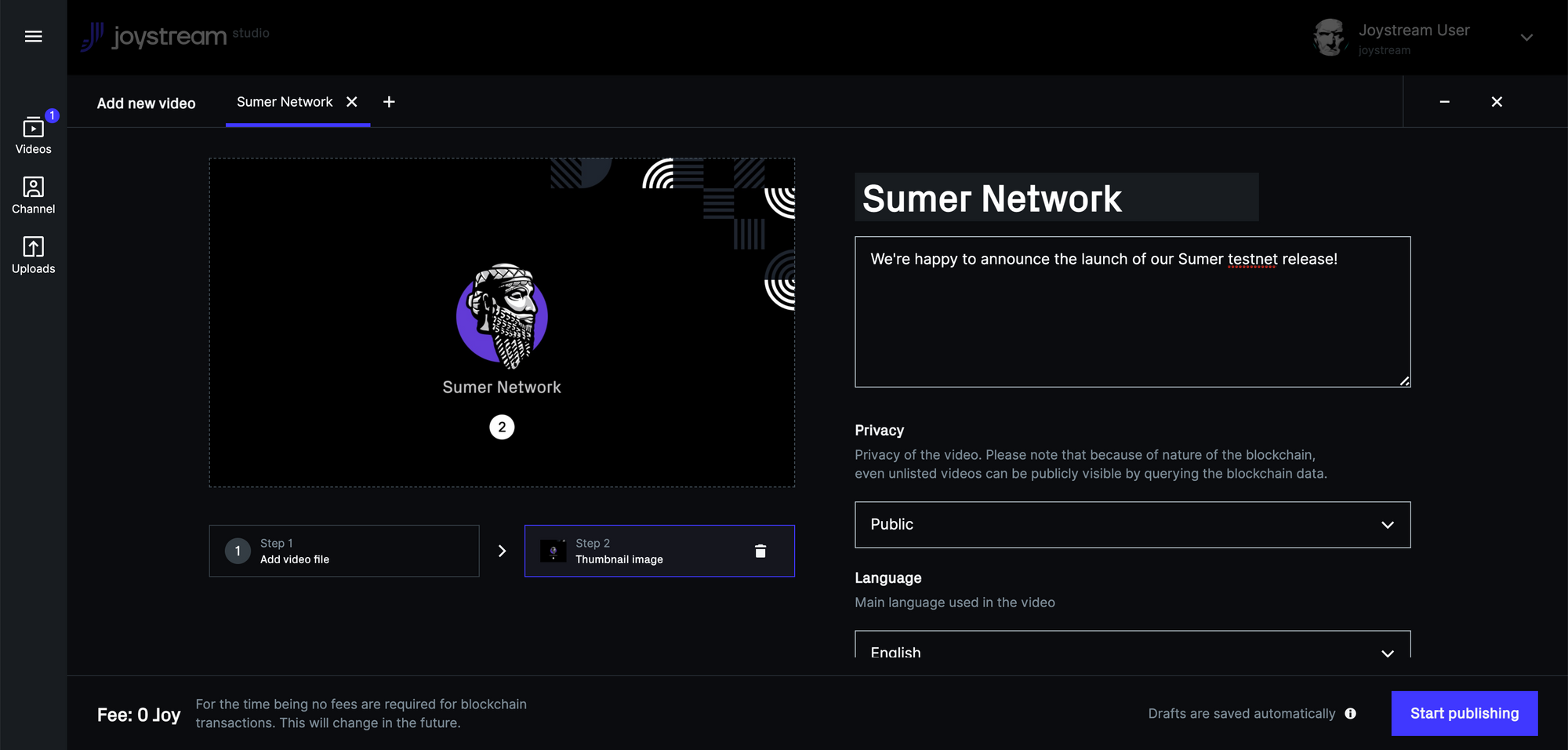 You can explore the new Joystream Studio interface via our publicly hosted version available here. We hope this much-improved uploads process will encourage our testnet participants to share even more high-quality content with the wider community (this is a great way to earn Founding Member points).
Other Developments
While improvements to the playback app are the most obvious change, we have made some not so insignificant changes below the surface, too.
One technical change was the overhauling of the previous content directory system to be replaced with a much simpler and flexible model, which you can read more about here on GitHub.
We also don't want to overlook the introduction of the new Builder (also called Operations ) Working Group, which formalises into a platform role some of the actions and responsibilities required to manage and operate the testnet platform (which becomes ever more essential as we approach mainnet).
Get Started
As before, we have made available the playback interface here.
Note that to use Joystream Studio you will need the Polkadot browser extension installed, and you will need to import your existing keys there.

Our regular Pioneer interface can also be found here as usual.
The CLI tool has been updated, so you will need to install the newest version for this in order for it to work properly with the new network. Software for Storage Providers will need a similar upgrade thanks to the new content directory.
If you need any help getting started, we ask you to consult our helpdesk repo first. If you have further questions, post them as Issues there, or ask in our Discord group!
tJOY tokens can be requested through our Discord group (#faucet channel) for those who are new to the project and for anyone interested in participating in one of the platform roles.
---
Disclaimer
All forward looking statements, estimates and commitments found in this blog post should be understood to be highly uncertain, not binding and for which no guarantees of accuracy or reliability can be provided. To the fullest extent permitted by law, in no event shall Joystream, Jsgenesis or our affiliates, or any of our directors, employees, contractors,  service providers or agents have any liability whatsoever to any person  for any direct or indirect loss, liability, cost, claim, expense or  damage of any kind, whether in contract or in tort, including negligence, or otherwise, arising out of or related to the use of all or  part of this post, or any links to third party websites.